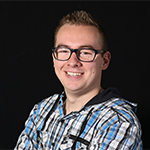 Hi!
I am Sander de Gans, a film composer living in the Netherlands. I have scored over 30 short films, videos, documentairies and commercials in the past years. I have learned to work with professional software that improves my workflow for faster and better results.
I believe that a good collaboration with the director and a good understanding of the story enhances the quality of the music in the film. So I'm excited to get to know you, to learn more about the story and to create a great project together.
Some demos
My music is mainly minimalistic, contemporary and experimental. I combine orchestral instruments with electronic synthesizers to create a unique soundscape. Listen to my music below!
Some projects I scored
Below you can watch a few short films with my music applied. If you also want music for your project, feel free to contact me below.
Get in touch
Do you need a composer for your film or video? Or do you need an assistant who can help compose music? Please Contact me!
I look forward to working with you.
Dirk Bosstraat 9
3241 GE, Middelharnis
South-Holland, The Netherlands